Bionesh Sun Cream
Using sunscreen only in the summer months is one of the false facts.  Harmful sun rays affect our skin negatively by arriving on the earth. So, our skin needs protection every time we go out.
Many negative situations occur when harmful sun rays get into contact with the skin. Acceleration of the older appearance, increase in wrinkles and blemishes, dryness, and flaking due to low moisture are some of the most well-known negative effects.
Sunscreens are products that absorb radiation caused by harmful ultraviolet rays such as UVA and UVB and reflect it back.
Bionesh Anti-Blemish High-Protection Sun Cream protects your skin from the harmful UVA and UVB rays of the sun thanks to the natural filters it contains. With water-based filters, it contains, it does not create a sticky feeling on the skin and does not prevent the oxygen exchange of the skin. It helps to keep the skin moist for a long time by increasing the water-holding capacity of the skin. It can be used as a make-up base. Does not shine on the skin. It nourishes the skin with aloe vera, shea butter, vitamin E, and the propolis extract it contains.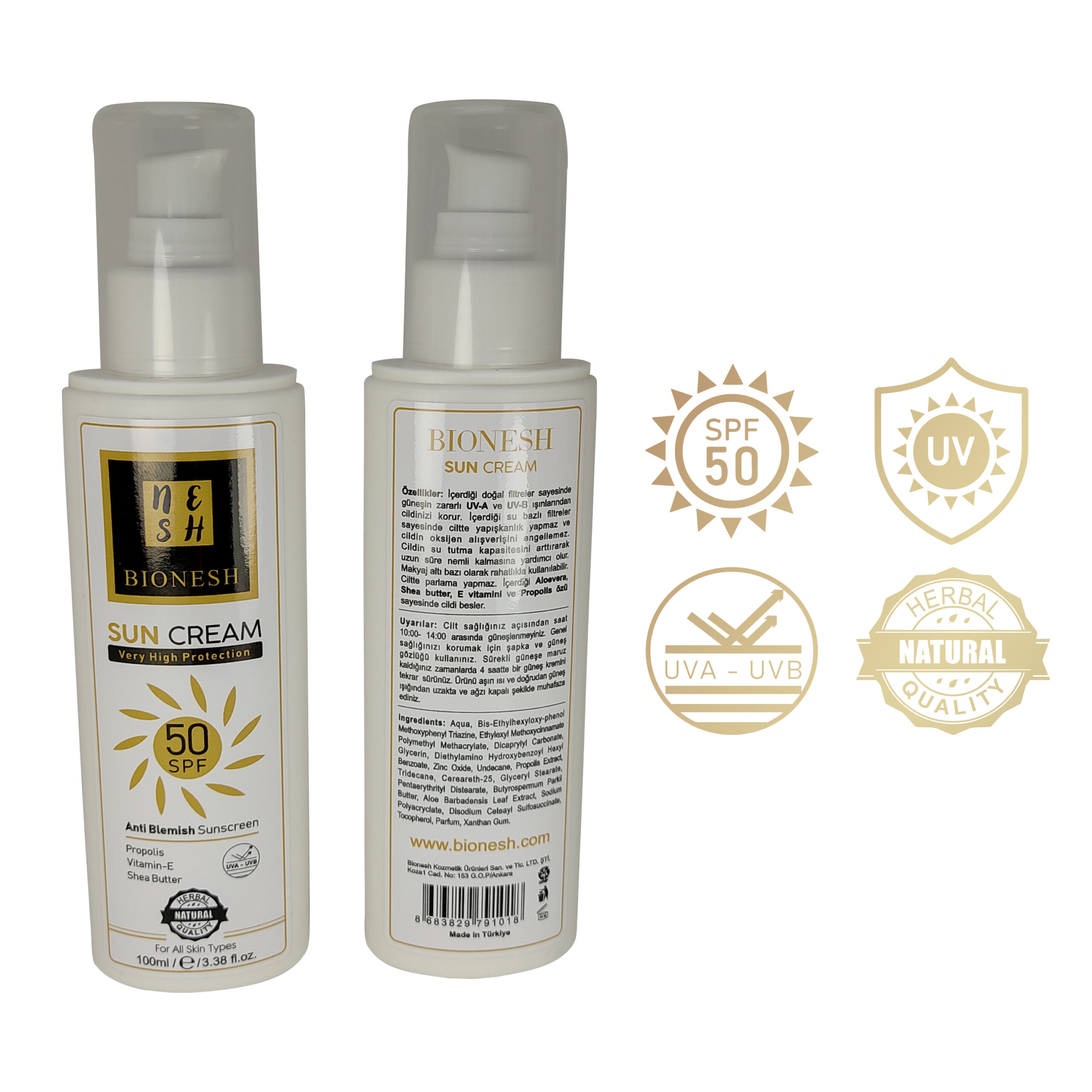 USAGE RECOMMENDATION
We should apply sunscreen on all areas that might come into contact with the sunlight 20-25 minutes before going outside.
Should you be in sunlight exposure for a long time in the daytime, you should freshen your sunscreen.
You should use sunscreen enough in all areas.
It is suitable for all skin types. It has passed the dermatological tests. It does not contain alcohol, perfume, paraben, and silicone.